Yay! I completed the 21 day organizing challenge!
I can't tell you how great it feels to be finished and a lot more organized.
I now have a pile of yard sale stuff in my garage and I have gotten rid of a lot of useless things as well. I am still working on my photos and setting up some keepsake binders for the kiddos but other than that I am done!
My grandma has been doing it too...she has rocked at this challenge. She didn't start until day 10 and caught up very quickly.
I've been working on becoming a healthier me and now because of the 21 day challenge...my house is "healthier"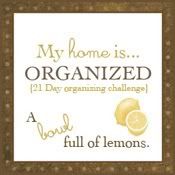 ...and because I enjoyed this challenge so much I am joining in on this one: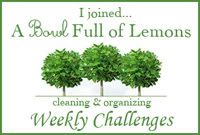 Who wants to join in on the new weekly challenge??